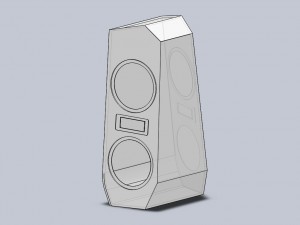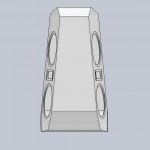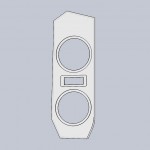 Here is the speaker backpack that me and my friend Vilse is building. The system will be a fully portable PA-system with integrated DJ-booth and lightning-effects.
It will be powered by LiPo-batteries. LiPo-batteries contains high energy relative to the weight.
We estimate that the system will be quite heavy, around 30kg. We will attach wheels on the bottom for easier transport.
Elements
It will contain this elements
4 x P.Audio HP-10W (Link)

Effect: 100 W RMS
Sensitivity: 96 dB
Frequency range: 50-4000 Hz
Impedance: 8 Ohm
Recommended frequency band: 90-3000 Hz
Qts: 0.40
Vas: 55 L
Fs: 48 Hz
Yttermått: 260mm (10″)
Depth: 125 mm
Weight: 2.8 kg
2 x Motorola Superhorn A125 KSN1025B (Hifikit Link)

Effect: 300 W
Frequency range: 2000 – 20000 Hz
Distortion at 105 dB: Less than 1%
Känslighet (1m, 1W): 100dB
Weight: 0.130 Kg
Outer dimensions: 188x80mm
Depth: 106mm
Amplifier
The speakers will be powered by a AMP9 Basic (41Hz Link):
Four channels of Tripath sound quality, based on Tripath TAA4100A
Output 4x50W at low distortion, 4x100W peak
Suitable for low impedance loads, 4 x 2 ohms 12V typical
Up to 27V supplies make them suitable for 12 or 24V systems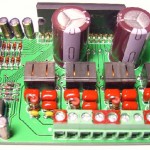 Audio crossover filter
We will be placing a audio crossover (frequency splitter) filter on the signal input before the amplifier.
If we would place the filter after the amplifier we would loose effect, and we want as long battery-life as possible.
In the future we will use a digital audio crossover, like the miniDSP (miniDSP Link)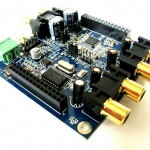 Material
We have choose a pretty unusual material for this speaker, polycarbonate. It's a material that is easy to work with and it looks great.
What is even more unusual is that we are making a holdable design: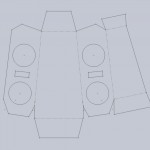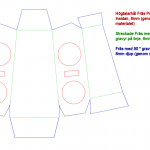 This will give us a almost completely air-tight box, but! it's going to be really hard to fold it correctly. Therefore we have designed the fold-able lines pre-milled with 90°.
As we don't have a big CNC-mill, we let the company Plastmästarn mill our project.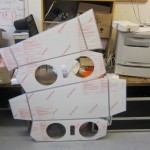 Speaker-box
The speaker-box will contain 94 liters of air.